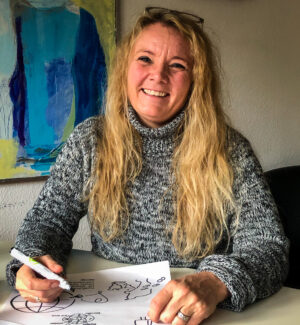 Efter sygdom og dødsfald i familien har Lene Schou taget sit liv op til revision, og planlægger at flytte i mobilt Tiny House i 2022
I marts 2020 var Lene Schou på skiferie med familie og venner. Hun blev syg dernede, og kom hjem med typiske covid-19 symptomer og gik i isolation. På samme skiferie var Lene Schous onkel, Jens-Erik. Han havde også fået covid-19, og efter en sygeperiode i Danmark dør han, 67 år gammel. Han var en nær relation og en vigtig person i Lene Schous liv. Det triste dødsfald af onklen får Lene Schou til at indse, at man ikke skal udsætte livet, for som hun uddyber: "Vi kan være væk i morgen".
Med corona nedlukningen forsvandt alle lyspunkterne, koncerter, festivaler og ferier med et trylleslag fra Lene Schous kalender, og efterlod den med rungende tomme sider.
Lene Schou var selv hårdt ramt af covid-19, og har også otte måneder efter virussen flere senfølger i form af manglende energi og mindre lungekapacitet.
Sammenfaldet med covid-19 sygdommen, en lang isolation og tabet af Jens-Erik, fik Lene Schou til at kigge ind i sig selv og overveje, hvilket liv hun fremover vil leve.
Drømmelivet er skitseret
Huset Lene Schou bor i nu, har hun boet i siden 2008. Det er den længste tid hun har boet nogen steder. Stabilitet ligger ikke helt til den eventyrlystne kvinde med det store blonde hår og brillerne skubbet op i panden i bedste Britt Bendix stil.
Drømmen er, at opleve økonomisk frihed og mobilitet gennem et lille Tiny House, og Lene Schou er i gang med både tegninger og projektplanlægning. Håndværkerdatteren vil bygge det selv, for som i bedste Pippi Langstrømpe stil, er tankegangen "Hvorfor skulle jeg ikke kunne det". Huset skal være mobilt, så hun kan flytte det efter om konsulentjobbet ligger i Sønderjylland eller i København.
Huset skal være klart februar 2022, når Lene Schou fylder 50 år. Planen er at bo i sommermånederne i Danmark i det lille hus, og om vinteren i Australien, hvor hun vil arbejde for kost og logi.
Udrejselængslen har hun fra sine forældre. De tog som unge til Australien, hvor Lene Schou er født. Senere flyttede de til Danmark, men den frie fugl slap ikke taget i datteren. Som 18-årig var hun klar til at nedlægge verden. Egypten, Israel og Schweiz var bare nogen af destinationerne. Hun havde ikke troet, at hun skulle have børn, for hun skulle have sin frihed, og aldrig eje mere end der kunne være i en backpack. Men hun fandt kærligheden, og parret fik tre børn i rap.
Ridderkors i at være mor
Med tre små børn blev Lene Schou lullet ind i småborgerligheden, de 12 ens tallerkner og hverdagen med ro og regelmæssighed. Efter få år gik ægteskabet i stykker.
I årene med børnene har Lene Schous fornemste titel være mor.
"Jeg har dedikeret og prioriteret mit mor-liv på den måde, at jeg vil have ridderkors, elefantorden og sort bælte i moderskab. Men når jeg så har fået det, så gælder det mig, for der er også begrænsninger i at have børn, og når man er det fuld tid med tre børn og to arme, så er man spændt for".
Tiden hvor mor-titlen er den største i verden, er ved at rinde ud. Børnene er teenagere mellem 15 og 18 år, der efter at have været 10 år alene sammen med hende, er blevet meget selvstændige. Deres far er ikke en aktiv del af de unges liv, og af flere årsager ser de ham sjældent.
Drømmen om frihed har ligget latent i Lene Schou i mange år. Da hun først havde tænkt tanken: "Det er nu, jeg gør det", så var der ingen mulighed for at gå tilbage. Alligevel har Lene Schou overvejelser om hendes valg nu også er det rigtige.
Teenagerne er ikke med i kalkulen
I det nye Tiny House er Lene Schous børn velkomne, men der er intet værelse til dem. Planen er, at den ældste efter gymnasiet skal på scholarship i USA, den mellemste på HHX, og den yngste skal to år på Oure Efterskole.
"Jeg ved, børnene er vildt ambivalente med min plan. De er stolte over, at jeg er så modig og tør forfølge min drøm. Men de er også bekymrede, da de ser mig som meget passioneret, og ved at der er meget på spil. Samtidig er tanken om ikke at have et værelse i et hjem skræmmende for dem alle", udtaler Lene Schou.
Men Lene Schou har alligevel en lille bekymrende stemme i sig. Kan hun tillade sig at være så egoistisk, at sætte flyttedato på hvornår børnene skal flytte ud?
"Det er jo ikke så super-mom agtigt", forklarer hun, og frygter at møde manglende forståelse og opbakning.
"Jeg er ikke bange for at være sær og gå mine egne veje, men jeg er også afhængig af accept og samhørighed", konkretiserer Lene Schou: "Men det handler om mod", og at forfølge sin drøm.
FAKTA BOKS:
Et Tiny House er et lille hus på under 37m2. Konceptet kommer fra USA. Et Tiny House kan medvirke til økonomisk frihed ved færre omkostninger, mindre forbrug og bæredygtighed. Tiny Houses kan være uden faste installationer, og nogen har hjul under, så de fysisk kan flytte placering.
Artiklen er et led i diplomuddannelsen til Fagjournalist hos Danmarks Journalisthøjskolen, november 2020.